106th County Championship Day 1
On Saturday 14th May sixty of the best golfers from across Gloucestershire took to Lilley Brook GC to do battle over 36 holes on Day 1 of the 106th County Championship. The top 30 and ties would progress to play on Sunday 15th May. Also being played for on Day 1 was the Winterbotham Cup where the winning club will go on to represent Gloucestershire at the England Golf Champion Club event which is also being held at Lilley Brook GC later in the year. The golf course was presented in pristine condition and the weather favourable for good scoring.
After the mornings round Jonny Daniel (Henbury) lead the way after a fine 66 which included a hole in one on the 11th. A stroke behind after firing a 67 was Mike Day (Henbury). Completing the top 3 and also from Henbury was the defending Champion Nick Day who was a further stroke back on 68. The field were all chasing the Henbury trio going into Round 2.
Nick Day added a 69 to his mornings round of 68 to give him a 36 hole total of 137. Ed Butler (Lansdown) fired a brilliant 66 to add to his mornings round of 71 which also left him on 137. 137 proved to a popular 36 hole total as Ash Millington (Players Club) finished on the same number after rounds of 70 & 67. Jonny Daniels continued his fine form and fired a 70 to go with his 66 from the morning which left him leading by a single stroke on 136. The best score of the day was 65 by Jake Phillips (Cotswold Hills) which when added to his morning score of 74 left him on 139 and within touching distance of the leaders.
The 36 hole cut of the top 30 and ties fell at 150.
The Winterbotham Trophy was won by the Henbury trio of Nick Day, Mike Day & Callum Mortimore who's 36 hole aggregate total with the best two from three scores of 274 (-2) was good enough to secure victory by 7 strokes. We wish the team and the club the very best of luck for the England Golf Champion Club event later in the year.
The 106th County Championship is finely poised ahead of Day 2 and with some bad weather forecast the conditions may be somewhat different.
Click Here to view the full scores from Day 1 of the 106th County Championship
Click Here to view the results from the Winterbotham Cup
Click Here to view the 3rd Round tee times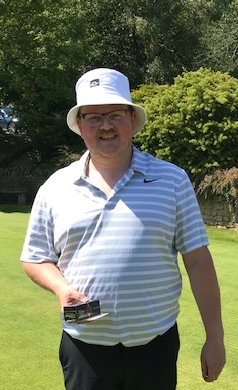 Overnight leader Jonny Daniels